Category: Giant Moto
---
It was a long time coming (well maybe 3 months since initial release) but Giant Moto version 1.2 now supports OpenFeint Leaderboards and Achievements! I always intended to add Leaderboards & Achievements, but while I was originally developing Giant Moto I hadn't yet settled on which 3rd party service I wanted to use.
When it comes to online high score services, there are several choices and OpenFeint appears to be the front runner (they claim to have something like 20 million users). I used Agon Online in the past for Holeshot Drag Racing, but I haven't really heard much from Agon over the last few months so I figure they must be falling behind in the leaderboard race.… More »
---
Giant Moto, our Excitebike inspired motocross racing game for the iPhone and Touch is featured in the iTunes store under "Best Racing Games"!
This is great news for Rocket 5 Studios especially considering that there are thousands of racing games on the App Store. This also comes at a good time as I recently updated the game's interface and I'm in the process of adding OpenFeint in a future update. And this comes right after Small Space XL was featured by Apple in their New & Notworthy iPad games!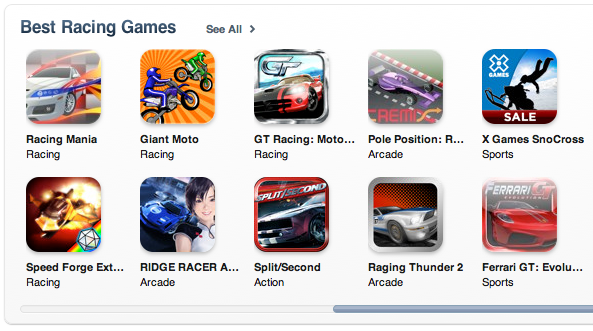 … More »
---
Giant Moto v1.1 is now available on the App Store and includes 4 new tracks, a new icon and a few other fixes and improvements. Download Giant Moto v1.1
What's new in v1.1:
• Added 4 new tracks!
• Improved steering sensitivity
• Fixed bug where front wheel would sometimes get stuck in track
• Added "more games" button to title screen, discover other hot games!
• Boost temperature overheat rate is now slower on Easy and Normal difficulty settings
• New icon
Here's a new video that shows 1 of the 4 new tracks:
---
Giant Moto has been featured by Apple in their "Hot New Games" and "New And Noteworthy" lists! This is about the best thing that an indie game developer could hope for as it means major front-page exposure for the game!
Before being featured, sales for Giant Moto were pretty good but since the feature our sales have quadrupled! I'm planning to do another post soon to go over the first 2 weeks sales data in more detail.
To give you a quick idea of how well Giant Moto is doing, on the US sales charts it's currently:
• #5 top paid Racing Game
• #15 top paid Arcade Game
• #53 top paid game in the US!… More »
---