Category: Featured
---
Pow! I'm pretty much always looking in the app store to see if there's anything new happening with one of our apps, but I always forget that there are different stores for the iPhone and iPad. So then I remembered I should check out the iPad store just in case iSpoof Walken might be Featured or something (one can hope!). And what should I find?.. iSpoof Walken is Featured in the Entertainment category under New & Noteworthy on the iPad store!
Here's a cropped image of how it appears in the App Store:

iSpoof Walken is our first Universal app (it runs on iPhone & iPad) so I didn't realize until now that Apple will Feature Universal apps on either of the stores (or probably both in some cases).… More »
---
Giant Moto, our Excitebike inspired motocross racing game for the iPhone and Touch is featured in the iTunes store under "Best Racing Games"!
This is great news for Rocket 5 Studios especially considering that there are thousands of racing games on the App Store. This also comes at a good time as I recently updated the game's interface and I'm in the process of adding OpenFeint in a future update. And this comes right after Small Space XL was featured by Apple in their New & Notworthy iPad games!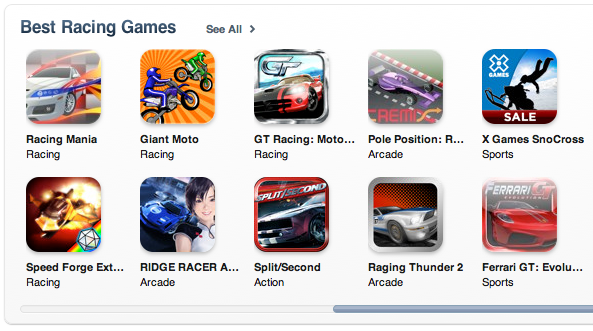 … More »
---
Small Space XL, our first game for the iPad has been featured by Apple in their New and Noteworthy games category!
This is our 2nd game to be Featured by Apple as a New & Noteworthy game – the first was Giant Moto just a few months ago.
This is huge news for Rocket 5 Studios and is a good sign that we're doing something right! 2 out of 3 games featured by Apple? Smiles all around!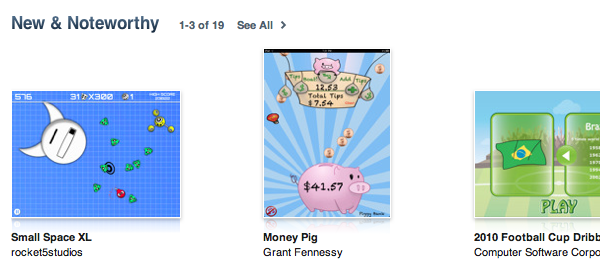 If you're looking to see if Small Space XL is still New & Notworthy, it's not up there any more – I've been pretty busy working on our next app so it has since fallen off the list (apps usually stay on N&N for about 1 week, then move to What's Hot for a week).… More »
---
Giant Moto has been featured by Apple in their "Hot New Games" and "New And Noteworthy" lists! This is about the best thing that an indie game developer could hope for as it means major front-page exposure for the game!
Before being featured, sales for Giant Moto were pretty good but since the feature our sales have quadrupled! I'm planning to do another post soon to go over the first 2 weeks sales data in more detail.
To give you a quick idea of how well Giant Moto is doing, on the US sales charts it's currently:
• #5 top paid Racing Game
• #15 top paid Arcade Game
• #53 top paid game in the US!… More »
---